HP TouchPad review roundup
(Read article summary)
HP TouchPad review scores are rolling in. Critics have positive words, but worry that the strong tablet market may wash away the HP TouchPad before it has a chance to grow.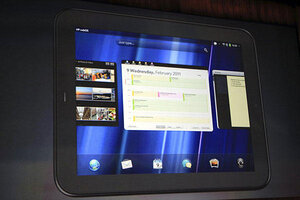 Beck Deifenbach/Reuters/File
The HP TouchPad seems to have followed the exact same curve as the Palm Pre. As the original webOS device, the Palm Pre had tech reviewers salivating. Early previews called the device snappy, fun, and a strong competitor against Apple and Android. But the Pre took too long to come out; its rivals gained too much ground between the Pre's unveiling and its actual release. Now, years later, has the HP TouchPad fallen into the same trap?
A few months ago, the TouchPad looked like a winner. It rocks webOS 3.0, a speedy Snapdragon dual-core 1.2GHz processor, 1GB of RAM, a 1.3 megapixel camera, a 1024x768 resolution screen (same as the iPad), a battery ready for 7 to 8 hours of video, and a price tag identical to the Wi-Fi iPad 2 and Xoom: $499 for a 16GB model, $599 for a 32GB version.
Solid specs. But is it enough to attract attention away from competitors? Or, is this another case where "perfectly good" is not good enough? Over to the reviews.
The hardware
"Internal hardware allows for smooth operation," writes Casey Johnston in Ars Technica. "The TouchPad leans toward the heavy side of the tablet scale; at 1.6 pounds, it's a third of a pound heavier than the iPad and the Galaxy Tab 10.1, but the same weight as the Motorola Xoom. Because the edges are rounded off and the back has a curve to it, the TouchPad feels chunky. Where other tablets might feel svelte, the TouchPad feels a bit like you're holding a blimp."
---