Smart phone sales now outpace feature phones', thanks to Android, iPhone
(Read article summary)
For the first time, smart phone sales have pulled ahead of feature phone sales. Android's still on top of the heap, but Apple's iPhone is going strong.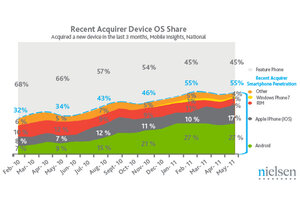 Neilsen
Two years ago, American phone habits shifted as the number of consumers owning just a cell phone outpaced, for the first time, those with just a traditional landline. Now, according to numbers released Thursday by the analytics giant Nielsen, we've reached another turning point. A majority of the Americans that purchased a mobile phone last quarter bought a smart phones rather than a traditional cell phone, often called a "feature phone."
The Nielsen survey revealed that 55 percent of mobile consumers who bought a new device in the past three months purchased a smart phone, compared to 46 percent last winter. Feature phones still make up the majority of the overall market, but while only 38 percent of consumers own smart phones, that number will likely continue to rise in coming months as more Americans decide to upgrade.
So which companies are benefiting the most from this growth in smart phone sales?
---