iPad HD: Is Apple prepping a higher-res version of its tablet?
(Read article summary)
An iPad HD is on the way, one tech site says. In related news, people are really, really happy with their new iPad, HD or not.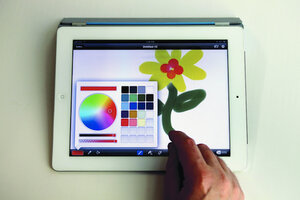 Newscom
Apple may soon introduce a next-generation tablet called the iPad HD.
So say the good folks at This Is My Next, who report that the next Apple tablet will ship this fall, and come equipped with a 2048 x 1536-pixel resolution screen – a pretty sizable leap over the 1024 x 768-pixel resolution display on the current model iPad. Interestingly, the iPad HD is being mentioned not as a replacement for the iPad 2, but as a supplement of sorts, geared toward "pros" at the "high-end" of the market.
In other words, Apple would keep cranking out iPad 2 units, and us regular folks could continue to buy them. Meanwhile, the iPad 2 would be joined on the shelves by the iPad HD – a very tentative and very unofficial name, FYI – which would be geared toward people who work in video production, or another line of work requiring some serious HD firepower. To that end, This Is My Next thinks this iPad HD will come pre-loaded with an iPad-centric version of Final Cut or Aperture. It's an interesting idea. Is it plausible?
---