Microsoft challenges competition with new phones, Windows 8 preview
(Read article summary)
In the second day of its Worldwide Partner Conference, Microsoft reveals new "Mango" handsets from Samsung and others. And new details about Windows 8 could raise excitement about Microsoft's presence in the tablet market.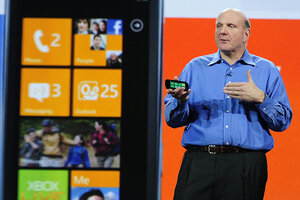 Newscom/FILE
Microsoft CEO Steve Ballmer's keynote address, which kicked off the company's Worldwide Partner Conference (WPC) Monday, included a little bit of bad news and a whole lot of good news.
The bad news was that Windows Phone 7 handsets haven't been selling very well. As we've noted before in this blog, WP7 only commands about 1 percent of newly activated mobile devices, trailing behind Apple's iOS at 17 percent and Google's Android at 27 percent.
The good news, however, is that several sleek, new devices are on the way running Windows Phone 7.5 "Mango," the latest version of the mobile OS set to be released in mid-October. Microsoft gave a sneak peek of those devices this Tuesday.
Most of the blogosphere buzz centered around a thin new handset from Samsung that Microsoft Corporate VP Steve Guggenheimer says he is "particularly excited" about. The device looks an awful lot like Samsung's Galaxy S II, an Android model sporting a Super AMOLED display and an 8-megapixel camera, which is expected to be released in the US this summer.
---