Spotify lands in the US. Should Apple be worried?
(Read article summary)
Spotify is now available to users in the US, and already, buzz around the music streaming site is extremely high.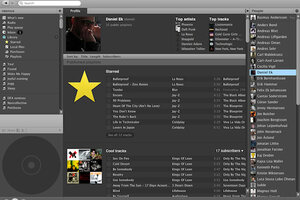 Newscom
Spotify, a Swedish music streaming site already popular in Europe, today lands in the US, and people are clambering for an invite. Here's how it works: Spotify is basically a giant cloud of millions of songs, which can be played from a range of different devices. (It's kind of like an all-you-can-eat iTunes, but you can't download the tracks.) As of this afternoon, folks in the US can sign up for a free Beta trial, or they can fork over for a paid monthly subscription.
Unlimited access on multiple devices goes for $10 a month, and unlimited access for your desktop goes for $5. Pretty dang cheap. Unsurprisingly, the service has proved to be a hit among critics.
"You know something is good when it feels illegal," Donald Bell writes in a rave review over at CNET. "Such is the case with Spotify, the on-demand music-streaming service that seems too good to be true – or certainly, too good to be free. Yet, here it is, the 'celestial jukebox' we've been dreaming of since the days of illegally gorging on the original Napster." Bell, of course, isn't the first techie to compare Spotify with Napster in its heyday.
---