Spotify: Good for music lovers, bad for musicians?
(Read article summary)
Spotify music streaming is hugely popular in Europe, and now it's live in the US. But what does Spotify offer the musicians that create that music?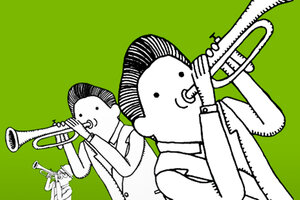 Spotify.com
The popular European music service Spotify is live in the US, launching this week to popular fanfare and a huge amount of blog buzz. But of course, music lovers in the US already have quite a few options when it comes to music-streaming services. Recommendation services such as Pandora and Last.fm occupy slightly different niches, as do nascent cloud offerings from Apple, Google, and Amazon. But Spotify more resembles streaming services such as Rhapsody and Rdio. How does Spotify stack up?
Spotify has two major advantages over similar services. The first is its gargantuan library of more than 15 million songs, which includes the catalogues of all four major record labels and lots of indies, too. (By way of comparison, Rdio offers about 7 million songs, and Rhapsody 10 million.)
Spotify's second advantage is the streaming flexibility it offers to users. Anyone can use the client on a Mac, PC, or Linux machine. In addition, customers willing to shell out $10/month for a premium account can enjoy Spotify apps not only for iOS and Android, but also for webOS, Symbian, and even older Windows Mobile phones.
It's clear that Spotify has enough strengths to present a compelling option for music lovers. What about the musicians themselves? How does Spotify's expansion affect them?
---