Verizon iPhone activations still trail those of AT&T
(Read article summary)
The Verizon iPhone was gobbled up by the millions in Q2 of this year. But the AT&T iPhone saw more activations.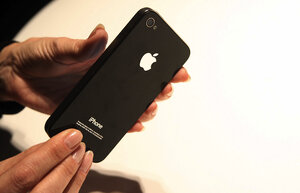 Newscom
The Verizon iPhone was greeted by many analysts as a major-league game changer – the device that could put the AT&T iPhone, and its notoriously spotty service, in a world of hurt. But according to new sales figures from both AT&T and Verizon, the AT&T iPhone has managed to retain its place atop the market. In the second quarter of this year, Verizon reps said the company activated 2.3 million iPhones, shy of the 3.6 million activated by AT&T.
Still, it's worth noting that the playing ground here isn't totally level. "AT&T has an advantage over Verizon in that it sells the previous-generation iPhone 3GS as well as the current iPhone 4," Peter Pachal writes over at PC Mag. "The carrier offers that model at a $49 discount rate (with a standard two-year contract). If customers are willing to buy a refurbished model, that cost drops to an ultra-cheap $9."
---