RIM cuts 2,000 jobs. Can the company bounce back?
(Read article summary)
RIM announces a 10.5-percent workforce reduction plan, and says it will retune its corporate strategy.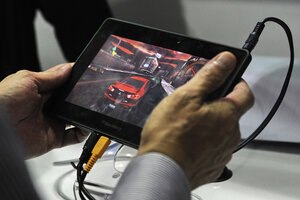 Newscom
Research in Motion, the manufacturer of the BlackBerry line of handsets and the PlayBook tablet, today announced it would slash approximately 2,000 jobs worldwide. The scale of the layoffs – about 10.5 percent of its workforce – exceeded many analyst expectations. In a press release, RIM reps said the layoffs would allow the company to "eliminat[e] redundancies" and rejigger internal strategy.
"The workforce reduction is believed to be a prudent and necessary step for the long term success of the company and it follows an extended period of rapid growth within the company whereby the workforce had nearly quadrupled in the last five years alone," RIM reps said. Affected employees in North America and "certain other countries" will be notified this week, while the "remainder of the global workforce reductions will occur at a later date," the reps added.
These have been grim times for RIM. Although the company still remains a force on the smartphone market – and will likely remain a force for years to come – recent product launches, such as the new BlackBerry Bold or the BlackBerry PlayBook, have failed to elicit much enthusiasm from critics, let alone consumers. Meanwhile, pressure from Apple and Android continues to mount.
---