Android scores another stellar month, but why the high return rates?
(Read article summary)
Android return rates are curiously high, one outlet reports today. How does that square with its huge sales?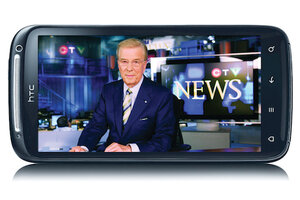 Newscom
Android is ascendant – we've said it once, we've said it twice. But what if Android's activation numbers – some half a million a day, according to Google – were marred by consumer dissatisfaction? Over at TechCrunch, John Biggs says that some stores are seeing return rates on Android devices between 30 and 40 percent, much higher than competitors.
"For us nerds, Android makes a lot of sense," Biggs writes. "It's ostensibly open platform (but not really) that offers far more flexibility to the programmer, carrier, and, ideally, the user. For the 'average' phone user, however, Android is a maze. Anecdotally, I've heard of multiple examples of folks who bought an Android phone in order to 'Think Different' and came away disappointed."
Biggs says the numbers come from a person "familiar with handset sales for multiple manufacturers." Fair enough.
But how do those return figures square with the incredible activation rates Android has reported in the past year? Well, over at InformationWeek, Ed Hansberry argues that "even if the numbers are double the true return rates, 15 percent to 20 percent is still high. It casts a cloud on the 500,000 daily activation numbers that Google tosses about. Cut that by 20 percent and the number drops to 400,000, which is still a lot of devices."
---