Skype releases free iPad app
(Read article summary)
Skype makes its debut on the iPad. So how does it stack up?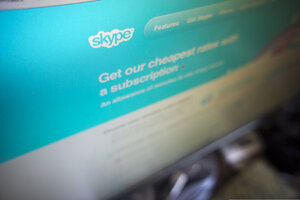 Newscom
On Tuesday, Skype released an iPad-optimized version of its popular Internet-phone and video-chat app, and judging by early consumer reviews on iTunes – there are already hundreds – the app is likely to get a warm reception. Some details: The Skype software is free, and clocks in at about 16 MBs. You can use either a 3G or a Wi-Fi connection to call both landlines and cellphones, or to chat with other iPad and desktop users. Video below.
So how does the iPad version of Skype stack up? Well, over at Venture Beat, Sean Ludwig takes a spin on the new app, and likes what he sees, mostly. He found that the program occasionally seizes up when a user tries to switch between the contracts list and other options; there was also some lag time on new contact requests. But resolution! Let's talk about that resolution. The video quality is very good, Ludwig writes – even better than FaceTime.
---