BlackBerry 7 to debut on a range of new phones: RIM
(Read article summary)
BlackBerry 7 is coming. Is it enough to boost the fortunes of RIM?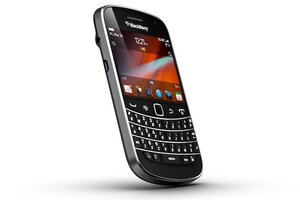 RIM
BlackBerry 7 is a go. RIM today announced it would soon roll out five new smartphones running the next generation BlackBerry 7 OS, including three handsets from the Torch line and two from the Bold line. The two Bold phones – one of them is pictured above – are the thinnest phones RIM has ever produced, while the Torch devices pair a slider keyboard with a large touch screen.
In a statement, RIM said BlackBerry 7 based smartphones churn through the Web 40 faster than BlackBerry 6 smartphones and a 100 percent faster than BlackBerry 5 smartphones. Which is pretty impressive! So can the BlackBerry 7 OS help haul RIM out of its recent fiscal morass?
Well, over at PC World, Sascha Segan is not so optimistic. "BlackBerry 7 isn't what the company needs. Everyone knows what the company needs: its next-generation OS, QNX, on phones. This isn't cutting-edge analysis here," Segan writes. "I was at the launch of BlackBerry 7 in May, and it isn't a radical change. There's nothing radical about these new phones at all."
---