Nokia debuts 3 new Symbian phones, the beginning of the end
(Read article summary)
Nokia announced today that it would soon roll out three new handsets, the 600, 700, and 701, all powered by the Symbian Belle OS.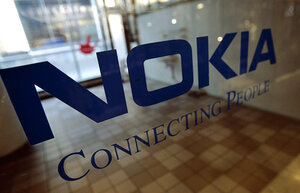 Newscom
Nokia on Wednesday took the wraps off three new smartphones, all of them running the Belle operating system, the latest upgrade to Nokia's sturdy Symbian software. The Nokia 600, 700, and 701 will likely ship sometime in Q3 of this year, and serve as a stopgap of sorts, until Nokia, which recently partnered with Microsoft, can start rolling out handsets powered by Windows Phone 7.
The Symbian Belle phones vary in processing power and size: The 600 gets a 3.2-inch display and a 5-megapixel camera, and sells for 180 euros, or about $260; the super-compact 700 gets an AMOLED display and a price tag of 270 euros, or $390; and the 701, priced at 290 euros, or $420, is kitted out with an 8-megapixel camera and a dual-LED flash, along with a 3.5 LCD display.
"Symbian Belle and the three new handsets we are launching today show our commitment to continue delivering Symbian products," Ilari Nurmi, a Nokia vice president, told the Associated Press. "These will not be last products or updates we will deliver on Symbian." But plenty of critics aren't impressed. Over at Forbes, for instance, Tero Kuittinen wonders why Nokia is still clinging to the doomed Symbian OS, which has seen its market share shrink in recent months.
---