Apple's new CEO: Who is Tim Cook?
(Read article summary)
Tim Cook, the hand-picked successor of Steve Jobs, is Apple's new CEO. Who is he, and what might the post-Jobs Apple look like?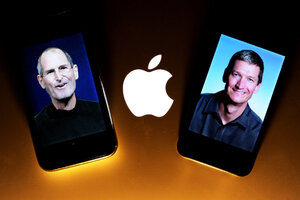 Newscom/Illustration
There's no denying that with his departure from day-to-day management of Apple, Steve Jobs is leaving some pretty big shoes to fill. Apple's Board of Directors has already named Tim Cook, formerly the company's Chief Operating Officer, as Jobs's replacement. But Apple stock took a hit of about 5 percent immediately following the announcement, indicating that at least some people are concerned about how well the world's most valuable technology company will fare without His Steveness at the helm. Who is Cook, and can he maintain Apple's magic?
Apple fans probably have nothing to worry about – every indication is that Cook will be a successful, even brilliant, CEO. For starters, Jobs hand-picked him as his successor, and Cook has been successfully running the day-to-day operations of the company since January, when his boss took a leave of absence for health reasons. He also steered the company for several months in 2004 and again in 2009 while Jobs underwent surgery (and was so successful that he was awarded a $5 million bonus following Jobs's return in March 2009).
---