BBM Music: BlackBerry users to get streaming subscription service
(Read article summary)
BBM Music is set to launch by the end of this year on BlackBerry phones. Is this the jolt that RIM needs?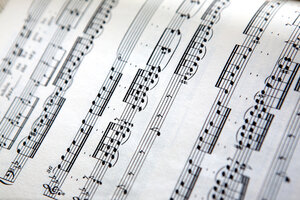 Newscom
On Friday, RIM announced it would roll out a subscription service called BBM Music, which will be available on BlackBerry handsets later this year. The whole thing works a little bit like Spotify: users fork over a monthly fee – in this case five bucks – in exchange for continuous access to a cloud-based collection of music. According to RIM reps, Omnifone will provide back-end and hosting duties; a bunch of major labels are already on board.
Included in the BBM Music interface are the obligatory social media features – you can share tracks with friends, show off playlists, and customize your profile – as well as offline capability. So if you don't have an Internet connection, your music will still be available, provided you downloaded it to your handset first. BBM Music, Mike Lazaridis of RIM said in a statement, will allow users "to connect with friends on a whole new level."
RIM must also be hoping that BBM Music will help kick the company – and the BlackBerry line – a much needed jolt of energy. Back in July, RIM announced it would slash approximately 2,000 jobs worldwide, or about 10.5 percent of its global workforce. In a press release, RIM reps said the layoffs would allow the company to "eliminat[e] redundancies" and rejigger internal strategy.
---