Samsung Galaxy S II comes to Sprint; Verizon passes?
(Read article summary)
The highly-acclaimed Samsung Galaxy S II smart phone is coming to the U.S., appearing first from Sprint. But there are indications that Verizon might pass it over for a newer Samsung handset instead.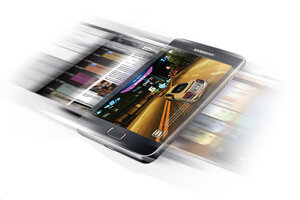 Samsung.com
The Samsung Galaxy S II launched overseas in April to pretty much universal acclaim. (Engadget gave the phone a 9/10 rating and opined, "It's the best Android smartphone yet, but more importantly, it might well be the best smartphone, period.") It's been slow making its way stateside, but at a media event in Manhattan on Tuesday, Samsung finally announced a U.S. launch date: September 16.
Well, sort of. See, Sprint gets it on that date; its version of the handset will be branded as the Epic 4G Touch. The phone will be on AT&T and T-Mobile later this year, too, though the dates haven't been announced yet. And according some reports, it might not show up on Verizon at all.
First, here's a little more about what we know for sure: the Galaxy S II is among the most high-end Android smart phones. Sprint's version, the Epic 4G Touch, sports a giant 4.5-inch Super AMOLED screen, along with an 8-megapixel camera and 1.2GHz processor, running on Android 2.3 "Gingerbread" (the latest Android phone flavor, at least until the fall). T-Mobile's version will have identical specs, but in a different form factor, and AT&T's version will be the same under the hood but will shrink the screen slightly, to 4.3 inches.
---