Windows 8 OS takes aim at tablet market
(Read article summary)
Windows 8 gets its big debut this week. So is this the Windows OS that gives Microsoft a grip in the tablet world?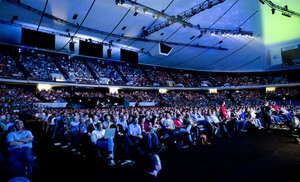 Newscom
On Tuesday, Microsoft opened the annual BUILD developers conference with a preview of Windows 8, the next iteration of its popular operating system. As one reporter on scene noted, "[Windows 8] isn't a minor tweak with a new name," but a "a complete overhaul." And the most interesting part of that overhaul is the Windows 8 Metro interface, which runs on desktop PCs and laptops, and also tablet computers.
Microsoft, of course, is best known as a purveyor of desktop software – and according to the New York Times, Windows business remains "huge and immensely profitable." But the computer market has been transformed mightily in recent years, first by the emergence of powerful, computer-like smartphones and then by the rapidly swelling tablet market (currently dominated by Apple; more on that later).
The team at Redmond needs to keep up, obviously. Thus the appearance of "touch-centric" Windows 8 Metro – an OS that does double-duty on regular ol' PCs and new-fangled tablets. Over at Reuters, Bill Rigby reports that Microsoft has distributed 5,000 sleek Samsung tablet computers to developers, all of them running a test version of Windows 8 – an effort to gin up excitement around the new OS.
---