PlayStation Vita gets 2011 release date (but only in Japan)
(Read article summary)
The PlayStation Vita will hit shelves in Japan in December. North American customers will likely have to wait a little longer than that.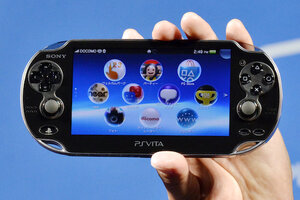 Newscom
The PlayStation Vita, the next-generation mobile device from Sony, will hit shelves in Japan in December. So says Sony, which announced at a press conference that 26 games would be available at the time of the Vita launch, including "Ridge Racer," "Uncharted: Golden Abyss," and something called "Army Corps of Hell."
According to Wired, the Vita will not use Memory Stick media nor SD cards. "Instead, it will use a proprietary memory card that will cost approximately between $25 and $100 depending on the size of the card, from 4 GB to 32 GB," Wired reports.
So when can North American consumers expect to get their hands on a Sony PlayStation Vita? Well, probably not until 2012, leaving stateside Sony fans out in the cold.
A second question: Can the Vita really succeed where the Nintendo 3DS has struggled? Horizons readers will recall that the 3DS – a device once billed as the future of handheld gaming – has thus far failed to really catch on. According to the industry analysts at NPD, sales of the 3DS have plunged substantially from March, when the device was first released.
---