HTC Rhyme, a plum colored phone with matching "charm," set for Sept. 29 launch
(Read article summary)
The HTC Rhyme gets a plum-color scheme, a svelte shape, and a dangling 'Rhyme Charm.'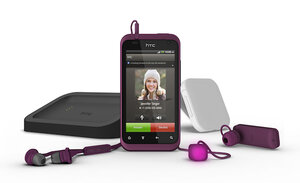 Newscom
On Tuesday, HTC took the wraps off the Rhyme, a svelte purple handset equipped with Android Gingerbread, a 3.7 inch screen, a decent amount of memory, and a dangly purple thing called the "Rhyme Charm," which hangs off the side of the Rhyme like a Christmas ornament. (More on the "Rhyme Charm" later.) The Rhyme is set to debut on Sept. 29 in the States; the handset will be available only through Verizon Wireless.
So what to make of the Rhyme? Well, although neither HTC nor Verizon are saying it explicitly, this device is clearly designed to appeal to the female half of the smartphone audience – those consumers turned off by what Gizmodo describes as the "butch" lines of the Droid. The Rhyme is all soft edges and "plum" color schemes, along with a shape that is designed – according to HTC – to "feel great in your hand."
That's not to say that HTC has skimped on the hardware. The Rhyme gets a super LCD display, high-quality stereo sound, a 5-megapixel camera with auto focus, a power LED flash, and an "instant shutter for capturing those memorable moments whenever they arrive." (Seriously, the HTC press release is written a little like a Hallmark card.) Over at Engadget, Dana Wollman got her hands on a Rhyme, and she likes what she sees.
---