Amazon calls press conference for next week. Kindle tablet on the way?
(Read article summary)
Kindle tablet rumors lurch into high gear as Amazon send out invitations.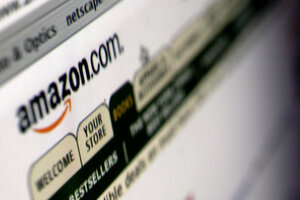 Newscom
Amazon tablet rumors have burbled out across the web for months. First it was the Amazon tablet that maybe might be a kind of Kindle for movies, and then it was the Amazon tablet that was essentially a next-generation Kindle, with a 7-inch frame and a capacitive touch screen. Next week the rumors may finally be put to rest. Earlier today, Amazon sent out an invitation to a New York press event, scheduled for Wednesday, Sept. 28.
The invitation was pretty basic: A date, a time, a JPG of the Amazon logo. But plenty of tech writers are reading between the lines. "At the very least, [the conference] will be about a Kindle," writes Nick Bilton of the New York Times. "First, Amazon press conferences in recent years have been the venue to announce a new Kindle. In addition, Amazon sent its press release to several gadget bloggers, including Engadget and Boy Genius Report."
---