iPad to dominate tablet market for the next three years. Sorry, Android.
(Read article summary)
The iPad will continue to lead the tablet race well into 2014, according to one new report. Not that things are all bad for Android.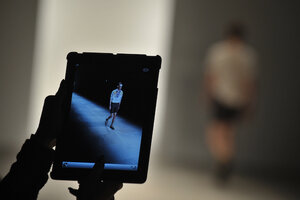 Newscom/AFP
It's no secret that Apple has the tablet market in a throttle hold.
For proof, check in with the Motorola Xoom, the HP TouchPad, and the BlackBerry PlayBook, all cutting-edge devices which have bumped up, in one way or another, against the enduring supremacy of the iPad. Or check in with the folks at Gartner, who this week published a report indicating that Apple will have a "free run" over its competitors for the next three years.
"We expect Apple to maintain a market share lead throughout our forecast period by commanding more than 50 percent of the market until 2014," Carolina Milanesi, research vice president at Gartner said in a statement. "This is because Apple delivers a superior and unified user experience across its hardware, software and services. Unless competitors can respond with a similar approach, challenges to Apple's position will be minimal."
---