Gears of War 3 tops 3 million sales in one week
(Read article summary)
Gears of War 3 sold three million copies in its first week on the market. That was enough to push total Gears franchise sales past $1 billion, Microsoft said today.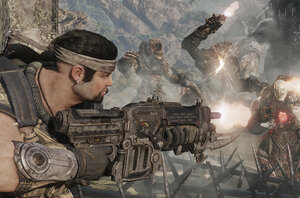 Newscom
Gears of War 3 was released only 12 days ago, on Sept. 20, but the latest installment in the stories Gears series is already racking up some serious sales figures.
According to Microsoft, more than three million copies of Gears of War 3 were sold in the first week of availability alone – enough to drive the overall haul from the entire franchise past $1 billion in total franchise sales.
"Gears of War was the first killer app for Xbox 360, and the series has continued to contribute directly to the overall success of the platform ever since," Microsoft exec Phil Spencer said in a statement today. "Gears of War 3 kicked off the biggest Christmas period in Xbox history, setting the standard for the kind of amazing, action-packed experiences gamers should expect on Xbox 360 this year."
Gears of War 3, which has already been dubbed the "biggest game of the year," received a warm critical reception when it launched earlier this month. "Calling this a must-own doesn't do justice to the long-lasting strength this game possesses," one reviewer wrote. "This franchise defined a generation of gaming and goes out on a triumphant note, or a bloodcurdling roar, depending on how you choose to hear the music."
---