$35 tablet computer, dubbed the Aakash, unveiled in India
(Read article summary)
$35 tablet computer hits shelves in India. The catch: To get your hands on the Aakash, you've got to be a student. Still, how long before we have a $35 tablet computer arrives here in the states?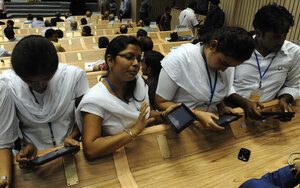 Newscom
A $35 tablet computer?
Earlier this year, Amazon unveiled the $199 Kindle Fire tablet, which undercuts even the cheapest Apple iPad by a cool three-hundred bucks. Today, the government of India unveiled $35 tablet computer, the Aakash, which undercuts the Kindle Fire by $165, and the cheapest Apple iPad by $365.
Take that, Apple!
At a press event in New Delhi, Kapil Sibal, India's minister for human resources development, dished out 500 Aakash tablets to a group of students, and invited them to test out the device. Considering the price tag, the Aakash is a pretty full-featured machine: According to the New York Times, it ships with a 7-inch touch screen, Android 2.2 OS, a pair of USB ports, and 256 megabytes of RAM.
---