iPhone 4S and iCloud: Never lose another file?
(Read article summary)
iPhone 4S's announcement Tuesday offered a refresher and some new details on Apple's iCloud storage-and-sync service. The feature, which will work on iPhone 4S and other Apple devices, will compete with Amazon's cloud storage service.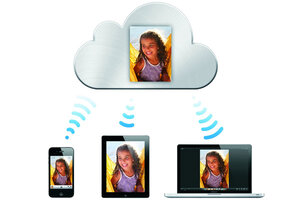 Apple/Newscom
New iPhone 4S! Updated (and cheaper) iPods! With all the focus on hardware during Apple's announcement on Tuesday, you might have glossed over the new details about the software that powers it: iOS 5. One of the operating system's most interesting features is iCloud, which arrives on Oct. 12 (two days before the iPhone 4S).
A quick primer on how iCloud works: you might have noticed that iOS devices top out at 64GB of storage space. That's reasonably capacious, but hardly enough to store a large media collection. That's because rather than selling devices with huge drives, Apple wants you to store your stuff on their servers (in the "cloud"), and sync it to your iPhone 4S, iPad, iPod Touch, or Mac over the air.
iCloud was first introduced back in June at the Apple Worldwide Developers Conference, so a lot of what we saw today was a recap. But Apple also shared some more details on how the service works.
---