Steve Jobs quotes: The tech titan on work, tech, and creativity
(Read article summary)
A catalog of Steve Jobs quotes, organized by topic.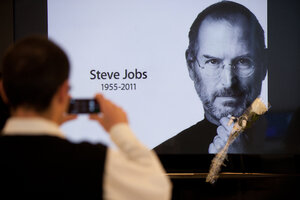 Newscom
On Wednesday evening, Apple announced the death of Steve Jobs, co-founder of Apple. As Brad Knickerbocker of the Monitor has noted, Jobs was something of an oracle – a man who "seemed to know what people wanted and thought they needed even before they did." Jobs was also an inveterate showman, and a reliable dispenser of particularly good quotes. What follows are a few of the very best, organized by topic.
On the evolution of technology
"To make step-function changes, revolutionary changes, it takes that combination of technical acumen and business and marketing – and a culture that can somehow match up the reason you developed your product and the reason people will want to buy it," Jobs told Rolling Stone in 1994. "I have a great respect for incremental improvement, and I've done that sort of thing in my life, but I've always been attracted to the more revolutionary changes. I don't know why. Because they're harder. They're much more stressful emotionally. And you usually go through a period where everybody tells you that you've completely failed."
On creativity...
"Creativity is just connecting things," Jobs said in a Wired interview in 1996. "When you ask creative people how they did something, they feel a little guilty because they didn't really do it, they just saw something. It seemed obvious to them after a while. That's because they were able to connect experiences they've had and synthesize new things. And the reason they were able to do that was that they've had more experiences or they have thought more about their experiences than other people. Unfortunately, that's too rare a commodity."
---