Bringing broadband to 18 million more Americans
(Read article summary)
FCC chairman Julius Genachowski unveils a plan to bring broadband access to 18 million more Americans, mostly in rural areas. But it involves dismantling and rebuilding a 15-year-old national service fund.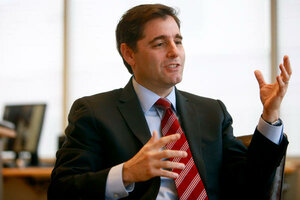 Jacquelyn Martin/AP/FILE
In 1997, broadband Internet was a luxury that few people needed or could afford. (What would you do with it, anyway? YouTube and Facebook weren't even around back then!) Today, though, it's practically a necessity for working from home, sharing information, and collaborating with others. Not having broadband is a pretty big barrier to innovation and economic contribution, right?
That's the argument that FCC chairman Julius Genachowski used last week in proposing the "Connect America Fund" (CAF), a plan to expand broadband access to 18 million more Americans in rural areas.
The nitty-gritty of the plan hasn't been made public yet, but here's what we know. The proposed CAF would have two goals: bringing broadband Internet to under-served areas, and expanding people's access to mobile broadband (think expansion of 4G networks). If you're wondering at this point whether that would mean more gold flowing to the coffers of Verizon, AT&T, et. al, think again. Genachowski was quick to point out that funding for the government plan would be directed to areas "without an unsubsidized competitor, and where support is needed to extend or sustain broadband networks" – in other words, remote areas where the telecoms haven't already installed infrastructure.
---