The story behind Steve Jobs's black turtleneck
(Read article summary)
Steve Jobs's outfit – black mock turtleneck and jeans – was iconic, even though it hadn't changed since the 1990s. Now we know how the Steve Jobs look came to be.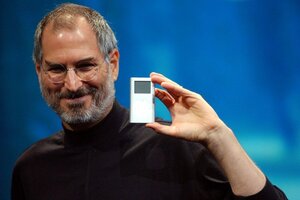 Marcio Jose Sanchez/AP/File
In the early days, it was a necktie and vest. Later (during the 1984 unveiling of the iconic Macintosh computer, for example) it was a bow tie and button-down shirt. But without a doubt, Steve Jobs's most iconic look has been his black mock turtleneck, Levi's 501 jeans, and New Balance sneakers. He sported that outfit for more than a decade, since shortly after he returned to Apple in 1998 as interim chief executive officer, until his final "Stevenote" address in June 2011, where he unveiled iOS 5 and iCloud.
So where'd his look come from?
According to Walter Isaacson, Jobs's official biographer, it all started when Jobs visited Japan in the early '80s. Isaacson's book, simply titled "Steve Jobs," won't hit shelves until Oct. 24, but Gawker has released an excerpt ahead of time that details how Jobs's iconic look came to be.
On his visit to Japan, Jobs met Akio Morita, the chairman of Sony. At the time, everyone in Sony's factories wore uniforms, and Morita told Jobs the practice had begun "after the war, [when] no one had any clothes, and companies like Sony had to give their workers something to wear each day." Then, over the years, the uniforms became a way for workers to bond with the company and to express the company's style.
---