iPad 3 is entering production, primed for early 2012 release: report
(Read article summary)
The Apple iPad 3 is on the way, according to one analyst.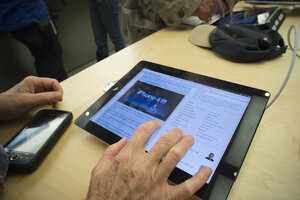 Newscom
While everyone was ogling the new iPhone 4S, Apple may have just pushed the iPad 3 into production. According to Susquehanna Financial analyst Jeff Fidacaro, who spoke this week to All Things D, Apple recently increased iPad supply orders from between 11 million and 13 million to between 12 and 14 million. That spike, Mr. Fidacaro believes, is driven in part by the new iPad.
"Since our last month supply chain checks we are now seeing 600,000 to one million iPad 3 builds showing up on the plan for the fourth quarter of calendar 2011," Fidacaro told John Paczkowski of All Things D. "Our previous estimate did not include any iPad 3s." This ramp-up, Mr. Paczkowski notes, would indicate a spring launch for the iPad 3 – perhaps even in March, exactly a year after the iPad 2 was first unveiled.
Another iPad! Well, it certainly would help cement the supremacy of Apple's tablet. Horizons readers will remember that back in September, the folks at Gartner estimated that Apple will have a "free run" over its competitors for the next three years. "We expect Apple to maintain a market share lead throughout our forecast period by commanding more than 50 percent of the market until 2014," one senior Gartner analyst wrote.
---