BlackBerry BBX platform introduced by RIM
(Read article summary)
The BlackBerry BBX will appear on RIM phones and tablets beginning in 2012, RIM reps said Tuesday.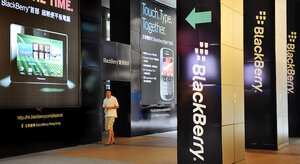 Newscom
This year has not been particularly kind to RIM, which has in recent months weathered a widespread network outage, seen its PlayBook tablet debut to lackluster sales, and watched as Google and Apple chew up ever-bigger gobs of the smartphone market. Earlier this year, the company announced it would cut 2,000 jobs worldwide, a shocking 10.5 percent of its global workforce.
On Tuesday, RIM co-CEO Mike Lazaridis took to the stage at a San Francisco developers conference to outline another way forward: A new BlackBerry operating system called BBX, which will power many RIM tablets and smartphones by early 2012. Details are still leaking out, but according to Bloomberg News, which was at the San Francisco event, BBX will combine elements of the traditional BlackBerry platform and newer QNX technology.
---