Obama Tumblr page reboots Web-friendly campaigning
(Read article summary)
Obama Tumblr feed launches this week, about one year before the 2012 election. Can the president's campaign, including this new Obama Tumblr page, capture the attention of youth voters as it did in 2008?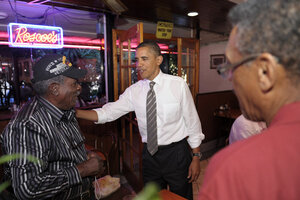 Susan Walsh/AP
While the Republican presidential primary rolls on, President Obama's reelection team doubled down on online campaigning. The president launched an Obama Tumblr page on Monday, a sign that he plans to again turn to the Internet for support.
Unfamiliar with Tumblr? The online service fits somewhere between the brevity of Twitter and reflection of a personal blog. People upload posts – often pictures relating to a particular theme – and Tumblr makes it easy for viewers to skim, share, and comment.
"There are lots of reasons we're excited to be launching the Obama 2012 campaign's new Tumblr today," says the first Obama Tumblr post. "But mostly it's because we're looking at this as an opportunity to create something that's not just ours, but yours, too. We'd like this Tumblr to be a huge collaborative storytelling effort—a place for people across the country to share what's going on in our respective corners of it and how we're getting involved in this campaign to keep making it better."
---