New smartphones: Nokia ushers in the Windows Phone era
(Read article summary)
Nokia's new smartphones, the Lumia 710 and Lumia 800, are the first real Nokia handsets to run Windows Phone software. These new smartphones could help Microsoft become the second biggest mobile OS, after Android.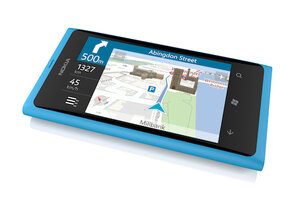 Newscom
The market for new smartphoneas was essentially a two-horse race, with Android holding just over 40 percent of the overall consumer base, and Apple holding just shy of 30. Neither Apple nor Google are likely to budge anytime soon. But hey, a mobile phone maker can dream. Hence the hype surrounding the unveiling, this week, of the Lumia 800 and the Lumia 710, two new smartphones from Nokia.
Both devices will launch in the US and Europe in November, and more importantly, both phones are powered by the Windows Phone OS. Yes, the Lumia is the fruit of the much-ballyhooed Nokia and Microsoft partnership, which was penned earlier this year. Before Nokia and Microsoft joined forced, Nokia ran an OS called Symbian; in the US, at least, Symbian will now be phased out, and replaced with the spiffy Windows Phone OS.
---