Google TV set for major refresh
(Read article summary)
Google TV gets better apps, new interface, improved search.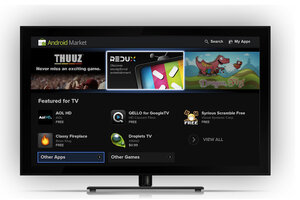 Google
According to a new biography, Apple CEO Steve Jobs was actively developing an Apple TV prototype – a prototype that Bloomberg News says is being steered by the same guy who helped build iTunes. Of course, the Apple TV, if it ever arrives, is likely a ways off. In the meantime, here's something concrete: Google TV is getting a major overhaul, which will strip down the interface, add TV-optimized Android apps, and improve search functionality.
In a post at the Google TV blog, exec Mario Queiroz says the software refresh – which will be available this weekend via an over-the-air update – boils down to four distinct bullet points. First, the platform will get a "new YouTube experience specifically built for Google TV." Second, it will get a simpler interface. Third, it will make it easy to hunt for content on Live TV, Netflix, YouTube, and HBO GO. Fourth, there will be an influx of apps.
---