Verizon Droid RAZR review roundup
(Read article summary)
The Verizon Droid RAZR has arrived. So how does the new RAZR stack up to the flip phone of yore?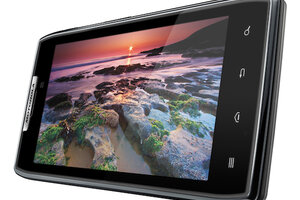 Reuters
The originally RAZR was a massive hit for Motorola – a slim and snappy flip phone, with plenty of battery life, good voice connectivity, and a pleasing design, to boot. Seven years after the original RAZR hit the market, Motorola has returned with the Droid RAZR, allegedly the slimmest smartphone on the planet. The Droid RAZR is available on the Verizon Wireless network, for $299.99, provided that you sign up for a two-year data plan.
Is the RAZR worth it? Let's go to the reviews.
The design
"[T]his is the first Droid in a while whose build quality is really worth getting excited about," writes Brent Rose of Gizmodo. "It is insanely thin (7.1mm), which makes the iPhone 4S and Droid Bionic run crying to Jenny Craig. It's the world's thinnest smartphone, and I'd bet that it will actually retain that title for a while. For all that thinness, though, it's not flimsy. Just the opposite, actually. The back is Kevlar (no word yet on bulletproofness, but this thing is just begging to be a viral video superstar), the screen is Gorilla Glass, and the whole thing is splash-proof. So it probably won't die in the rain or after an accidental drop in the toilet... it feels great to hold, and is just simply killer hardware."
The display
---