Amazon Kindle Fire could break tablet sales records
(Read article summary)
It won't be publicly available for another week, but the Amazon Kindle Fire is already generating tons of enthusiasm. One survey suggests the Kindle Fire might steal sales from Apple's iPad 2.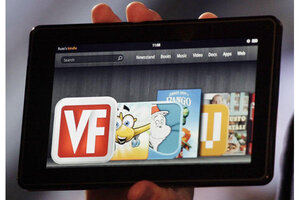 Mark Lennihan/AP
It's been a big week for the Kindle Fire, Amazon's $199 7-inch tablet aimed at bookworms and streaming-media enthusiasts alike. Of course, it doesn't actually come out until next week, but in the meantime, Barnes & Noble's Nook Tablet has appeared on the horizon as a major competitor. But there are a lot of reasons why Amazon CEO Jeff Bezos is probably grinning in anticipation right now. Let's count the reasons why:
First, there are solid pre-release indicators that the Fire could entice lots of buyers away from Apple's much more powerful but also much more expensive iPad 2. A recent survey of more than 1,000 people conducted by consumer electronics site Retrevo showed that of shoppers interested in buying a tablet for the holidays, 44 percent were considering a Fire instead of an iPad 2.
Amazon's own sales data paints a rosy picture, too: back in October, just as the Fire was made available for pre-order, MSNBC reported that Amazon was selling more than 50,000 of the tablets per day – more than either the iPad or the iPad 2 sold over the same pre-sale period. And as the Fire's November 15 release date nears, Amazon has apparently upped the number of units to be produced from 4 million to 5 million, according to Digitimes.
---