Skyrim review roundup: The best Elder Scrolls yet?
(Read article summary)
Elder Scrolls V: Skyrim hits shelves tomorrow, and according to the reviews, this fantasy game is (mostly) a masterpiece.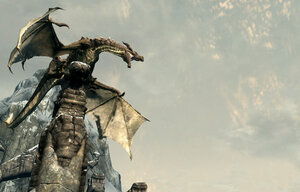 Bethesda
If you like first-person shooters, 2011 is the year for you – big-budget titles such as Modern Warfare 3 and Battlefield 3 have all hit shelves in recent weeks, to widespread critical acclaim. But what if you prefer a good old ol' RPG? Well, in that case, look no further than Elder Scrolls V: Skyrim, the new fantasy epic from the team at Bethesda. Skyrim hits shelves tomorrow. How does it stack up, you ask? Let's go to the reviews.
The world
"Unlike its 2006 predecessor The Elder Scrolls IV: Oblivion, which at times felt like a carbon copy of Generic Fantasy Map #40192, the world of Skyrim is a Viking-inspired treasure trove of flavor and charm," writes Jason Schreier of Wired. "Every city has its own personality. Many have their own cultures, each fraught with racial conflicts and frightening adversaries. Gone are Oblivion's bland medieval cities and repetitive demonic gates. Speaking with Skyrim director Todd Howard earlier this week, I asked him if there was any one element of the game he thought the team had really knocked out of the park. His answer was quick and to the point: 'The world.' I have to agree."
The quest
---