Veterans Day ravioli: Is that a real tradition?
(Read article summary)
Ravioli is the meal of choice for Veterans Day, at least according to an Internet meme. But is it a real tradition?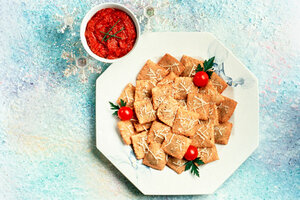 St. Louis Convention & Visitors Commission.
To all current and former American soldiers, sailors, Marines, airmen, and Coast Guardsmen: Thank you.
If you're not a veteran, consider serving those who have served. For instance, you can volunteer at a site near you that serves meals to homeless veterans. Alternatively, you could interview a veteran by recording his or her story for the Veterans History Project at the Library of Congress.
If you are a veteran, you should do whatever you want. It's your day, after all.
Veterans and non-veterans alike, we all have to eat. Is there a traditional Veterans Day meal?
Wikipedia says there is. Near the end of their Veterans Day entry, we spotted something we've never heard of before:
The holiday is often celebrated by having a ravioli meal. This tradition dates back to the ending days of World War I when President Woodrow Wilson, aware that the returning soldiers would be longing for home cooked meals, invited 2,000 soldiers to the White House and helped his staff chefs cook them ravioli, which had just become a mainstay in mainstream American kitchens due to commercial canning.
For most news organizations, this would be more than enough evidence to start passing the Parmesan. But we like to go the extra mile here at the Monitor, which in this case means making sure that Wikipedia's source checks out.
It doesn't. The link takes you to page 290 of "The Oxford Companion to American Food and Drink," which notes that canning during the 1930s introduced Americans to a number of formerly exotic foods, including enchiladas, chili con carne, goulash, and yes, ravioli. But it says nothing about the stuffed pasta being a Veteran's Day tradition.
---