iTunes Match goes live, better late than never
(Read article summary)
iTunes Match officially launches this week. Is it worth the $24.99 a year?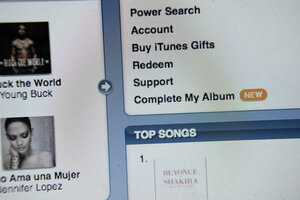 Newscom
Back in June, former Apple CEO Steve Jobs introduced a service called iTunes Match, which was described as a kind of central music repository, or digital locker. It works like this: A user pays Apple a yearly fee of $24.99. The company scans the user's library, including tracks uploaded from CDs or purchased from services other than iTunes, and locates "matches." Each match is added to an iCloud account, which the user can dip into at any time from any computer.
So let's say you've got a gigantic CD collection. You've uploaded the contents of 400 CDs to your iTunes account, but all those thousands of tracks don't appear on your smartphone, or your tablet. Providing Apple has the tracks in its library, with Match, you'll be able to access your music from anywhere (Wi-Fi or 3G connection permitting, of course).
Match can be extended to 10 devices; the music, Apple says, plays back at "256-Kbps AAC DRM-free quality – even if your original copy was of lower quality." In other words, your crummy early MP3 collection will sound crisp and clear.
---