Louis Daguerre: Why people never smile in old photographs
(Read article summary)
Louis Daguerre gets the seat of honor today at Google. The photography pioneer invented a way to create permanent images, as the Google doodle suggests. But why does everyone look so serious?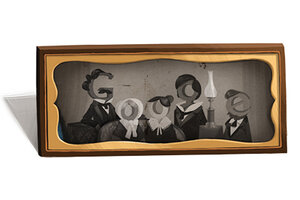 Google
Photography pioneer Louis Daguerre would have turned 224 today. Google marked the birthday with one of its classic doodle treatments.
For today's illustration, Google dressed up its name in period clothes and posed the letters for a family portrait. But the scene feels a tad stodgy. The personified letters seem stiff, maybe even bored. This might not be Google's most action-packed image – remember the Freddie Mercury doodle? – but it is a very appropriate nod to Mr. Daguerre.
Back in Daguerre's day, cameras played a very different role. Draftsmen lugged around a big tool called a "camera obscura," which is Latin for "darkened room." These large wood boxes had a lens on one end to let light through. But unlike modern cameras, which use the light to create permanent photographs, these tools cast the light on to a frosted sheet of glass. This allowed sketchers in the 1820s to draw quick outlines of buildings or landscapes. But once they moved the camera, the projection disappeared.
This frustrated Daguerre. There must be a way to create permanent photos, he thought. Others had tried to tackle the problem, including Daguerre's future partner, Nicéphore Niépce.
Mr. Niépce took the world's first known permanent photograph. While the science is miraculous, the image isn't much to look at. This faint "heliograph" captured the light and shadow of a scene outside his window. Because Niépce had only just begun to crack the secrets of photography, this first photo required an eight-hour exposure, long enough that the sunlight reflects off both sides of the buildings.
---