Larger Kindle Fire tablets set to hit in 2012: report
(Read article summary)
The Kindle Fire was launched this month by Amazon. But according to one tech site, Amazon is already prepping a pair of successors.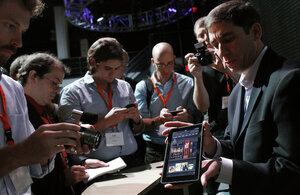 Reuters
The Kindle Fire, the new tablet released by Amazon this month, ships with a 7-inch touchscreen – a couple inches smaller than the 9.7-inch display on the Apple iPad 2. But according to a new report, Amazon is poised to play catch-up. In an article published this week, DigiTimes, an extremely well-sourced Taiwanese tech publication, says Amazon is prepping two new Kindle Fires, one with a 10.1-inch screen, and the other with an 8.9-inch display.
DigiTimes sources the report to "supply chain makers for Amazon," and forecasts that the 8.9-inch Kindle Fire could hit as soon as the second quarter of 2012. That makes sense: Amazon is known for rapidly refining and rejiggering its devices. The big-screen Kindle DX, for instance, launched just a couple of months after the Kindle 2.
In related news, this week the research firm ChangeWave called the Amazon Kindle Fire a "a shot across the bow at Apple," until recently the undisputed champ of the tablet market. ChangeWave reps said they had conducted a survey of 3,043 North American consumers – a survey which demonstrated "an extraordinary level of initial demand for the Amazon tablet."
---