iPhone temporarily bests Android, at least in the UK
(Read article summary)
The iPhone had a huge October in England, roundly defeating Google's Android operating system.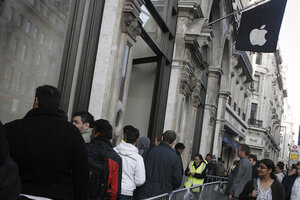 File
Earlier this month, Google announced that it was logging 550,000 Android activations a day, up from half a million in June and 400,000 in May. In the US, Android is inescapable: It has bested Apple in both sales and app downloads, and according to the most recent Nielsen report, Android phones currently account for 43 percent of the US market.
For those keeping track at home, in the previous quarter, Android devices accounted for only 39 percent of the American market. In other words, Android leapt up six big percentage points in the US, while Apple managed to stay pretty level, and BlackBerry weathered a dip. (In an interesting twist, not only does Android dominate the US market, but it also serves as a big fat target for mobile malware developers.)
But across the pond, things are very different indeed. In a new report, analytics firm Kantar Worldpanel estimates that the iPhone accounted for more than 43 percent of all smartphone sales in the UK in October. By comparison, Android phones took only 35 percent. It's worth noting here that Android still powers the majority of UK smartphones, just as it does in the US. This just accounts for newly purchased phones.
---