Apple iTV? Kinect TV? Get ready for a living-room brawl.
(Read article summary)
Apple iTV is real, according to one source, and should hit shelves in 2012. Meanwhile, Microsoft wants to put Kinect motion controls into a TV set, says a new report.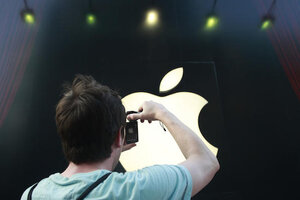 File
Earlier this fall, Walter Isaacson published a biography of former Apple CEO Steve Jobs. Among the most interesting tidbits in the book, from a tech perspective, was the revelation that Jobs, immediately prior to his death, was working on an Apple television, now colloquially called the iTV.
"I'd like to create an integrated television set that is completely easy to use," Jobs told Isaacson. "It would be seamlessly synced with all of your devices and with iCloud. It will have the simplest user interface you could imagine. I finally cracked it." At the time, Bloomberg reported that the iTV launch was being overseen by Jeff Robbin, the same guy who helped build both the iPod and the iTunes store.
---