SOPA Internet bill: Newspapers and op-ed writers pile on
(Read article summary)
Last week, tech companies such as Google and Yahoo spoke out against SOPA and PIPA, two bills aimed at cracking down on online copyright infringement in a way that some call overbearing. Now, with newspapers running more pieces critical of the legislation, the opposition could intensify.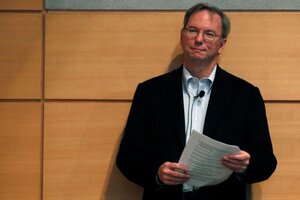 Charles Krupa/AP
It's been a tough few days for the Stop Online Piracy Act (SOPA) and the Protect IP Act (PIPA), the twin bills currently winding their way through the House and the Senate, respectively, aimed at increasing the government's ability to hamstring copyright infringers and other counterfeiting ne'er-do-wells. Although the bills enjoy bipartisan support in Washington, opposition from groups equating their enforcement with online censorship has been strong – and the backlash is growing.
On Monday, Wall Street Journal columnist L. Gordon Crovitz (formerly the paper's publisher) wrote an op-ed decrying SOPA and PIPA, saying, "These bills would go so far to protect copyright that they would strangle the Internet with regulation. The Web would be transformed from a permissive technology where innovation is welcome to one where websites are shut down first, questions asked later." Crovitz concluded that "Hollywood" (the Motion Picture Association of America and other groups who are the bills' primary backers) wanted to suppress technology. He likening SOPA to arguments from the '80s that the VCR would suck the lifeblood out of the entertainment industry.
---