Google takes aim at a new target: Amazon Prime
(Read article summary)
Google is reportedly considering launching an e-commerce site with features similar to Amazon Prime, according to a new report.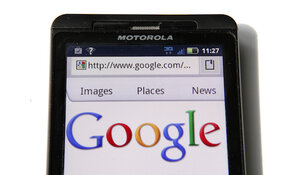 Reuters
A few years back, Amazon introduced a program called Prime, which allows users to receive free two-day shipping – and more recently, a range of free movies and e-book downloads – for a flat yearly fee. By most accounts, Amazon Prime has been extremely successful. So successful, in fact, that Google appears to want a piece of the action.
In a report today in the Wall Street Journal, Amir Efrati and Stu Woo write that Google is actively developing an e-commerce platform, similar in scope to Amazon Prime. The platform would work by "melding" Google's product-search feature with a "quick-shipping service" overseen by Google. Plug in the product name, in other words, and Google would make sure the product is on your doorstep in a matter of days.
"[S]ome retailers are interested in signing up for it, said people familiar with the matter," the Journal reports. "They said Google has pitched the project to big retailers that it has teamed up with in the past, a group that includes Macy's Inc., Gap Inc. and OfficeMax Inc." A Macy's spokesman confirmed the store had spoken to Google reps, but told the Journal that no concrete decisions had been made.
---