With Xbox 360 updates and sales like these, who needs next-gen consoles?
(Read article summary)
The Xbox 360 beat out the Nintendo Wii in November, one analyst said. Meanwhile, Microsoft has launched a new Xbox software package, and both Nintendo and Microsoft edge closer to issuing new gaming platforms.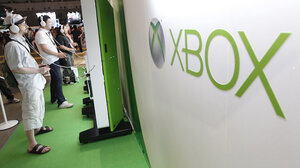 Reuters
The Xbox 360 continues to rack up solid sales, while the Nintendo Wii – once the top-selling platform in the world – has seen its hold on the market erode. That's the news this week from Wedbush analyst Michael Pachter, who estimates Microsoft sold 1.44 million units in November, up 5 percent over the same time last year. Nintendo, by comparison, sold a little over a million units in November, which represents a 17 percent drop, year over year.
According to CNET, which obtained a copy of Pachter's note to investors, a big chunk of these sales can be attributed to a strong Black Friday. But there's still plenty of information to be culled from the data: After half a decade, the Wii is slipping, while the Xbox 360 remains popular (undoubtedly thanks to the still strong array of Xbox 360 titles), as does the Sony PlayStation 3, which sold to the tune of 750,000 units in November, up 41 percent over 2010.
---