Android Market tops 10 billion downloads
(Read article summary)
Android Market, the hub of the Android ecosystem, has racked up some major numbers in recent months.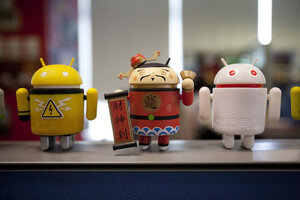 File
Late in October, analytics firm ABI estimated that Google's Android OS was responsible for 44 percent of all mobile app downloads, compared to 31 percent on Apple's iOS. The news was greeted as further evidence of Android's increasing popularity – approximately 550,000 Android phones are activated every day – and as a blow to Apple, the creator of the first widely successful mobile app marketplace.
This week, Google announced that its Android Market, the online app store launched in the fall of 2008, had topped 10 billion downloads, and was growing at a rate of 1 billion downloads a month.
"One billion is a pretty big number by any measurement. However, when it's describing the speed at which something is growing, it's simply amazing," Google's Eric Chu wrote on the Android blog. "This past weekend, thanks to Android users around the world, Android Market exceeded 10 billion app downloads – with a growth rate of one billion app downloads per month. We can't wait to see where this accelerating growth takes us in 2012."
---