Diego Rivera, communist and Mexican icon, honored with Google Doodle
(Read article summary)
Mexico's most famous mural painter, Diego Rivera, is honored posthumously on his 125th birthday with a Google doodle.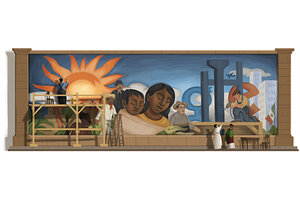 Google
Google pays tribute today to Mexican mural painter Diego Rivera, one of the great artists of the early 20th century. The search engine replaced its normal logo with an industrial landscape in honor of what would have been the artist's 125th birthday. So who was Rivera? What made his art special?
Rivera was brought up by a middle class family in Mexico. Beginning at the age of 10, he studied at the Academy of San Carlos in Mexico City, then continued his studies in Europe.
Early in his career, he learned to apply mathematical principles to his art. This led to a long period of Rivera producing Cubist paintings. The style involved twisting normal reality – while most paintings are inherently 2-D, Cubism mixes in 3-D elements. Viewers get to see multiple sides of the same object, even though they're staring at a flat canvas. The result often looks like peering into a shattered mirror. While Rivera spent two decades painting in this style, many people forget this period in his life and only remember him for what came next.
Around 1920, he began moving away from Cubism, finding inspiration in the Russian Revolution. His work turned toward realism. It leaned heavily on politics, and his work still drives debates on how public art helps shape the social and economic crisis.
For example, take a look at his mural "Frozen Assets," painted in 1931 and 1932. The painting is divided into three sections. The top shows the familiar New York City skyline, brimming with construction, innovation, and prosperity. The middle section shows dozens, if not hundreds, of homeless people packed into tight sleeping quarters. On the bottom sits an interior of a bank lobby.
---