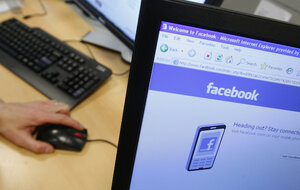 Reuters
Facebook on Friday began rolling out its new Timeline interface, which transforms the traditional Facebook profile, with its standard issue info and news feed, into something more akin to a scrap book – a "chronological, visual story of your life," in the formulation of one blogger.
"Timeline gives you an easy way to rediscover the things you shared, and collect your most important moments," Facebook's Paul McDonald wrote on the company blog today. "It also lets you share new experiences, like the music you listen to or the miles you run."
Think of the new Timeline as a static presentation, as opposed to the update-centric look of the current profile. With the Timeline, you choose a "cover image," which dominates the profile; meanwhile, your "likes," as McDonald hinted, are pulled to the forefront of the display, along with your friend circles. It's a change of pace, to be sure. Early reviews of the functionality have been mostly positive.
---