First true Google tablet arriving next year, says Schmidt
(Read article summary)
A Google tablet, possibly branded with the Nexus moniker, is on the way, Google CEO Eric Schmidt has hinted.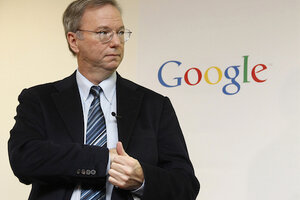 Reuters
The tablet market is an increasingly crowded place. On the one hand, you have the Apple iPad, the reigning heavyweight, and the luxury tablet of choice. On the other, you have the scrappy young Amazon Kindle Fire, which appeals, in the formulation of one analyst, to a "wider, more diverse customer base." And now comes word Google could be wading into the fray, possibly with a committed, high-end tablet bearing the Nexus moniker.
"In the next six months we plan to market a tablet of the highest quality," Google CEO Eric Schmidt has told the Italian newspaper Corriere della Sea, according to the UK Telegraph. Schmidt didn't get into too many specifics, but his promise aligns neatly with a long-simmering rumor in the tech world: That Google is working with LG to create a Nexus tablet.
It's worth noting here that there are plenty of Android tablets on shelves already. (Have you seen the $99 Android 4.0 tablet?) But the device mentioned by Schmidt would not be a tablet running Google software yet made by someone else, such as the Xoom – it would be a Google product, from top to bottom.
---