How Nicolas Steno changed the way we see the world, literally
(Read article summary)
Nicolas Steno, father of geology, received a Google doodle Wednesday in honor of his 374th birthday.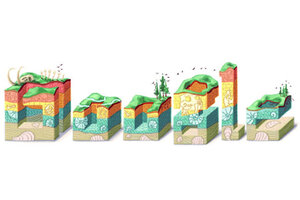 Google.com
In 1669, Nicolas Steno rewrote the way people thought about the earth. And today, more than 300 years later, Google excavated his name from the history books for a special Google doodle tribute to the late (and perhaps first) geologist.
Steno was a true Renaissance man. He lived back when scientists didn't stick to a single discipline. He dabbled in medicine, shark dentistry, ancient beasts, and ultimately kick-started the study of geology. Steno simply followed his curiosity, no matter where it led.
Our story starts in Florence, Italy, where Steno, then a budding physician, settled down after years of studying throughout western Europe. He had already challenged several long-held scientific assumptions, researched the changing shapes of muscles, and discovered an unknown body part in the heads of mammals. (He named it after himself, the "ductus stenonianus.")
He moved to Florence in 1665 to join the court of the Grand Duke of Tuscany, and collect for him a "cabinet of curiosity" – basically a room filled with natural wonders. Such collections fell somewhere between a carnival freak show and the basement of a university science department. Men such as Steno gathered, labeled, and displayed animals, vegetables, and minerals of all kinds.
So, when fishermen caught a massive great white shark in 1666, guess who got to dissect its head?
"While examining the teeth of the shark, Steno was struck by their resemblance to certain stony objects, called glossopetrae – literally 'tongue stones' – that were found in certain rocks," writes the University of California Museum of Paleontology in its biography of Steno. (See image above.) "Ancient authorities, such as the Roman author Pliny the Elder, had suggested that these stones fell from the sky or from the moon. Others were of the opinion, also going back to ancient times, that fossils naturally grew in the rocks."
---