Nicolas Steno: The saint who undermined creationism
(Read article summary)
Celebrated with a Google doodle on his 374th birthday, Nicolas Steno set in motion a revolution that would ultimately unseat the Bible as an accepted scientific authority on the age of the earth. Now he is on the path to Catholic sainthood.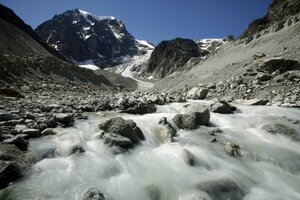 Denis Balibouse/Reuters/File
Don't feel bad if you've never heard of Nicolas Steno. Even though the 17th century Danish anatomist and geologist made a number of discoveries that are now seen as self-evident – namely, that the heart is a muscle that pumps blood, that tears are formed in the eye, that fossils are the remains of living organisms from previous geologic eras, and that older rocks tend to lie deeper in the earth than younger ones – his legacy, like the mysterious stones that he examined, have since been obscured by layers of historical sediment.
Perhaps some of Steno's obscurity arises from his failure to fit into a narrative that science and religion are adversaries. Unlike Galileo, whom the Catholic church famously threatened to torture if he did not recant, Steno was embraced by the Vatican. Yet his discoveries set in motion a revolution that would ultimately unseat the Bible as the authority on the age of the earth.
Steno's geological breakthrough came in 1666, when, serving as a researcher for the Grand Duke of Tuscany in Florence, he was given the opportunity to examine the head of a great white shark. The young anatomist was struck by the similarity of the shark's teeth to curious objects found embedded in rocks throughout Europe. Steno concluded that those objects actually were the teeth of ancient sharks, deposited there when the continent lay beneath the ocean.
Published in 1669, the principles in Steno's 78-page text, "On Solids," are still taught in geology classes today. Science writer Alan Cutler sums up the thesis in his 2003 biography of the scientist, "The Seashell on the Mountaintop,"
---