SOPA blackout: How to get around the Wikipedia protest
(Read article summary)
Wikipedia imposed a SOPA blackout today, redacting its English encyclopedia in protest of the US bill. Don't worry. Here are five ways to get around the blackout.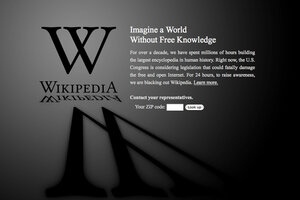 Wikipedia/AP
Wikipedia went dark Wednesday. The online encyclopedia blacked out almost all of its English entries in protest of the Stop Online Piracy Act (SOPA), which is currently working its way through the US House of Representatives.
"Right now, the U.S. Congress is considering legislation that could fatally damage the free and open Internet," says the website. "For 24 hours, to raise awareness, we are blacking out Wikipedia."
This SOPA blackout is a bold stand, but it doesn't cut off Wikipedia altogether. If you rely on the encyclopedia for quick answers, here are five ways to get around the protest.
1) Use your phone
The SOPA blackout doesn't affect Wikipedia's mobile edition.
You can actually take advantage of this trick on PCs, as well. When faced with Wikipedia's "Imagine a World Without Free Knowledge" blackout page, take a look at the Web address. They all start the same way – with the letters "en" and then a dot, signifying that the page is written in English. For example, the Wikipedia page on the Monitor is:
en.wikipedia.org/wiki/The_Christian_Science_Monitor
You can switch this to the mobile version by adding just two characters, an "m" and another period. Like so:
en.m.wikipedia.org/wiki/The_Christian_Science_Monitor
That's all it takes. Wikipedia attached a black box to the top of each mobile page, so you can still learn why the website opposes SOPA. But the rest of the text will appear as normal – although the formatting may look a little weird, since it's designed for smart phones, not computer monitors.
---